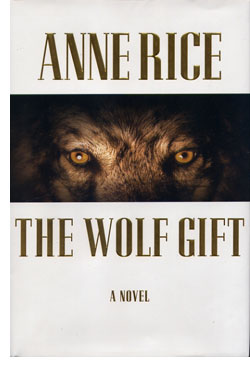 I was so excited to read Anne Rice's new novel, The Wolf Gift. Perhaps I'd built it up too much in my head, because while it was an alright read, it didn't quite live up to my expectations. I really enjoyed the story, the Gothic structure and the mystery, but the characters left me wanting. I wasn't as terrified as I was when reading The Witching Hour, or as charmed as I was through Interview with a Vampire.
The story follows Reuben Golding, a journalist of independent wealth. Reuben is uncommonly good looking and charming in the way that youngest or only children often are. Reuben, a young reporter is attacked and bitten by a mysterious animal while on assignment. He then undergoes a physical and emotional transformation, eventually taking the law into his own hands, becoming a media sensation, and attracting the attention of both scientists and possibly his own kind.
Reuben is probably my least favourite main character of all of Rice's novels. He is weak and spoiled. He lives off of a trust fund while pursuing a soft journalism career, specializing in architecture, with no drive to truly prove himself in any way. At the age of 23, he drives a porche and uses his looks to push his career and personal life forward. While I did like that he used his new powers for good, I still found him too lucky and not nearly grateful enough to be a character to root for. Additionally, the plot provided him with little to no real tension or opposition. Everything falls easily and luckily into place, with Reuben left with very little action to take to achieve his goals and avoid trouble.
Like any story about werewolves, this book explores underlying themes of masculinity and anger. The Wolf Gift, however, doesn't bring any new perspectives on these topics. Reuben is emasculated by his ambitious and intelligent mother and girlfriend. In Reuben's mind, their take-charge attitudes and personal drive leave gentle men like his father and him with little to achieve or to be. So as the wolf-gift takes over, he is offered a renewed masculine energy and finds himself more and more capable of becoming his own man. Of course, Reuben never takes responsibility for his own weaknesses and looks to the renewed masculine energy given to him by the wolf gift to provide a channel for his anger and an outlet for violence.
While there were aspects of the Wolf Gift that I liked, I wouldn't recommend it. It's really dissapointing to read a new book by an old favourite author and not enjoy it. Instead of picking up the Wolf Gift, re-read one of Rice's classics.